Attractions
Below are selected attractions, which you can use during your stay in Kąty Rybackie.
Attractions for kids:

Rope Park "Stegna"
Playground in Sztutowo (with WiFi zone)
Court in Kąty Rybackie
Amusement park in Stegno
Laughter-place on Stegnie
Indian Settlement "Jantar"
Mini zoo in Jantar

Things to do on the water:

Windsurfing School in Krynica
Cruise ship "Krystyna"
Vistula Lagoon Marina

Active Holidays:

Riding Centre "Mierzeja"
Mini golf in Krynica
Indoor swimming pool in Jantar
Pirate Mountain
Camel hump

Places worth seeing:

Museum of Vistula Lagoon
Stutthof's Museum
Amber Museum in Sztutowo "The Amber Room"
Narrow-Gauge Railway
Church In Stegna
Lighthouse in Krynica
In addition annually at 28-29 June takes place in our festival of fishermen. Its distinctive features include: fishing boats sail in the company of the apostles, mass in intention of fishermen, fish snack sitting at the port of the Vistula Lagoon.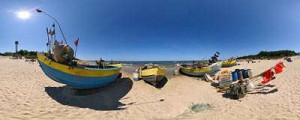 Kąty Rybackie are in the reserve. Reserve Kąty Rybackie was established in 1957 on the surface of 10.8 hectares,  its is Poland's largest ornithological reserve black cormorant and gray heron. In the reserve there is the sea eagle. www.parkmierzeja.pl
You should also see a bench fisherman. The new symbol Kąty Rybackie. Pedestal of a fisherman with fish in his hand is set in the port on the Vistula Lagoon. The obelisk is a tribute to the work and effort of fishermens who live for years at Vistula Lagoon.
You also should sail in 45-minute boat trip by ship Krystyna, that is stationed at the port of the Vistula Lagoon Fishing in Kąty Rybackie., tel. 604 405 350
Vistula lagoon marina operated by the roadside over the Lagoon. The marina offers: rowing boats, sailing and motor boats, pedal boats, kayaks, fishing equipment, sailing and windsurfing lessons. Ul. Rybacka 185 tel. 55 247 91 19
Sztutowo municipality known what is beach recreation and sporting events. On the beaches in Stutthof and Kąty Rybackie at every holiday weekend there are games in a beach volleyball or soccer. Anyone can start there and is absolutely free!